Star Cushion StarLock w/ Cell Lock Technology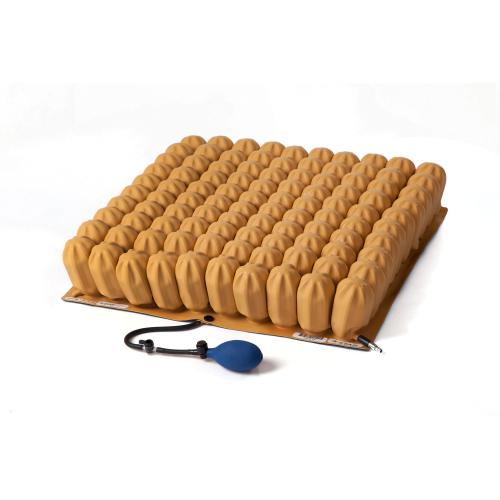 Manufacturer:
Star Cushion
Part Number:
SL
Retail Price:
$415.00
Your Price:
Out of stock
DESCRIPTION
First in the development of complete cell lock technology , Star offers you the StarLock Cushion. This is our premier wheelchair cushion offering you the ultimate in aggressive positioning, unparalleled stability and the highest level of therapeutic prevention and treatment of pressure ulcers youve come to expect from a Star Cushion Product.
Variable air flow control provides versatility when addressing hard to fit clients. The StarLock cushion can perform as a single valve cushion offering you the highest level of skin protection, and can provide locking of each cell to provide for high end positioning and stability.The attached bulb pump only operates air pressure in the "Lock Pockets" at the base of the cushion providing you quick and easy access to change positions, increase stability, and customize to your particular seating situation. The blue safety valve insures that settings will not be changed once set.
Cell lock technology allows you to easily address asymmetrical seating issues, isolate individual air cells, and customize with no contact areas without the added expense of an actual custom cushion and provides added protection in those cases of accidental cell damage. When locked, only air from damaged cell(s) lose air, not the entire cushion or compartment.
The ability to isolate air flow between cells enhances stability and assists in transfers and overall posture or trunk control. The Star Cushion StarLock maintains skin integrity by providing a therapeutic, low pressure, low shear, low friction seating environment.
---
REVIEWS
RATING:
Total Reviews: 1
10/15/2019 5:54:57 PM
Review by,
Dot from KS
The locking function of this cushion is a great idea but in practice, it does not work over time. The cushion loses air in some areas and is difficult, if not impossible, to reinflate in those areas. This can greatly reduce the ability of the cushion to relieve pressure and can contribute to development of a pressure ulcer. My experience of returning a malfunctioning cushion to the manufacturer resulted in it being returned in the exact same condition. It was only when a seating specialist confirmed the problem with a subsequent malfunctioning cushion was the problem acknowledged. I hope that the company is able to improve the technology. Until then, BEWARE!