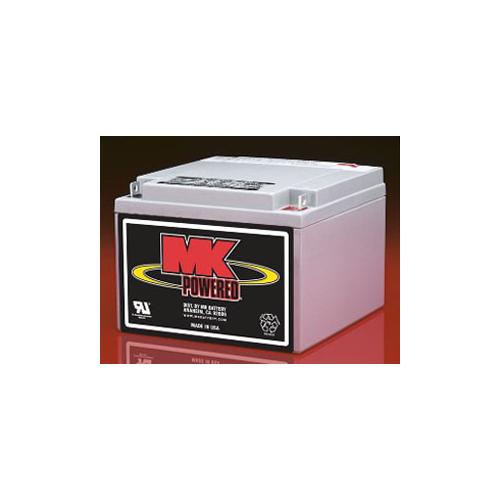 Manufacturer:
MK Battery
Part Number:
M12260-SLD-M
Retail Price:
$364.00
Price:

$289.00

Pr
DESCRIPTION
MK Deep CycleMobility batteries are the number one battery choice by leading manufacturers. MK Gel Scooter and Wheelchair batteries have a durable sealed construction that is FAA, IATA and UPS approved. The Gelled/Suspended Electrolyte in non liquid; allowing the battery to be leak free in any position. The re-sealing vent system prevents excessive internal pressure; thus, they cannot explode under normal conditions.
---
Compatible Chairs:

Access Point Medical AXS-31, AXS42P, AXS32P
Amigo Mobility Classic FD, TravelMate RD
Drive Medical Hawk & Hawk Compact, Phantom & Mini Phantom, Geo, Phoenix
Electric Mobility Rascal Fold & Go 760, Rascal 115
Everest Lite
Frank Mobility E-Fix, E-Fix Basic
Golden Technology Buzzaround, Buzzaround Lite
Hoveround Activa Mini, Activa
Invacare Zoom-3, Zoom 220
Medline Strider Micro, Strider Mini
Merits Health Products Pioneer 5 (S534), Pioneer (S541), Travel-Ease Regal (P321)
Pride Mobility Sonic, Go Chair, GoGo Ultra X, GoGo SC40E & SC44E, GoGo LX with CTS
Quickie Melody, Guardian Trek 3 & Trek 4, P-11
Shoprider Mobility Scootie & Scootie Jr., Traveler, Smartie, Jimmie (UL8PB, UL8PBS), XtraLite Jiffy
Shoprider Mobility Start, Dasher 3 & 4, Xtralite 3 & 4, E-Z Chopper, Sunrunner S
Tzora Classic, Elite, Lite
Win Med Tourist Xpress
Simple Battery Care Tips:
Use the manufacturer's automatic charger for all routine charging.
Never use an automotive or wet-type charger on sealed Gel or AGM Batteries. (This will damage your batteries)
Don't "top off" the battery with frequent charging.
Frequently Asked Battery Questions:
How often should I charge my Battery
Daily Users: Charge nightly. This applies to anyone who uses their equipment for community mobility outside the home.
Occasional Users: Charge your battery before an outing and always after active use. ( Ideally when the "fuel gauge" is about 50 percent).
How should a battery be stored
Always store your batteries "fully charged".
Check all batteries once a month and recharge as needed.
Sealed Gel and AGM batteries can hold a charge for up to 6 months.
When storing a char or scooter for more than 2 weeks, charge the batteries and then disconnect them.
Avoid Hot and Cold extremes when storing batteries.
SPECIFICATION
| | |
| --- | --- |
| Volts: | 12 |
| Amp Hours: | 22.1Ad |
| Length: | 6.54" |
| Width: | 6.89" |
| Height: | 4.92" |
| Weight Ea: | 20.52lbs |
Customers Also Bought