M17 Sealed Gel Battery ( Pair )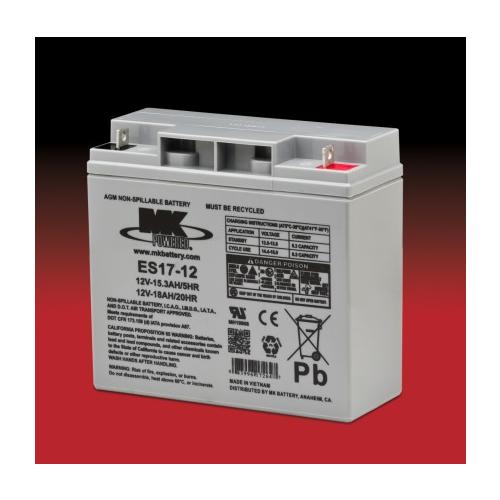 Manufacturer:
MK Battery
Part Number:
ES17-12
Retail Price:
$296.00
Price:

$215.00

Pr
DESCRIPTION
Long range 18Ah battery. MK Deep Cycle Mobility batteries are the number one battery choice by leading manufacturers.
MK Gel Scooter and Wheelchair batteries have a durable sealed construction that is FAA, IATA and UPS approved.
The Gelled/Suspended Electrolyte in non liquid; allowing the battery to be leak free in any position.
The re-sealing vent system prevents excessive internal pressure; thus, they cannot explode under normal conditions.
---
Compatible Chairs:

Afikim Electric Vehicles Super Light SL2, Caddy
Amigo Mobility RT Express, MC, MCX, RT Express Jr.
Bruno Typhoon C3 RWD, Cub 35 FWD (U1 optional)
Chauffer Mobility Lil Taxi
Dalton Medical 3 wheel SC-43
Damaco D90, D99, Child's Elite (14 x14)
Electric Mobility Rascal AutoGo 550, Rascal AutoGo 555, Rascal Fold & Go 370, Rascal 320
Frank Mobility E-Fix (with high capacity case), E-Fix Basic
Golden Technology Alante Jr., Liteway
Invacare Lynx SX-3, AT'M Take Along
Karma Medical Products KP10, KP10.2
Lifestand LSC Compact Standing Wheelchair
Medline Industries Gemini 1
MP3C-Jr, Pioneer (S538, S548)
Pioneer 1 (SP232, SP23), Pioneer 2 (SP242, SP24)
Pride Mobility GoGo SC40LR & SC44LR, GoGo Elite Traveller Plus
Pride Mobility GoGo LX with CTS, Rally
Shoprider Mobility Sunrunner, Snazzy, 777E, Dasher 9, Start 8
Suiter Destination
Wheelcare Superlight Scooter
Simple Battery Care Tips:
Use the manufacturer's automatic charger for all routine charging.
Never use an automotive or wet-type charger on sealed Gel or AGM Batteries. (This will damage your batteries)
Don't "top off" the battery with frequent charging.
Frequently Asked Battery Questions:
How often should I charge my Battery
Daily Users: Charge nightly. This applies to anyone who uses their equipment for community mobility outside the home.
Occasional Users: Charge your battery before an outing and always after active use. ( Ideally when the "fuel gauge" is about 50 percent).
How should a battery be stored
Always store your batteries "fully charged".
Check all batteries once a month and recharge as needed.
Sealed Gel and AGM batteries can hold a charge for up to 6 months.
When storing a char or scooter for more than 2 weeks, charge the batteries and then disconnect them.
Avoid Hot and Cold extremes when storing batteries.
SPECIFICATION
| | |
| --- | --- |
| Volts: | 12v |
| Amp Hours: | 18Ah |
| Length: | 7.13" |
| Width: | 2.99" |
| Height: | 6.57" |
| Weight Ea: | 13.8lbs |
| Construction: | Sealed VRLA, AGM |
REVIEWS
Please review this product!