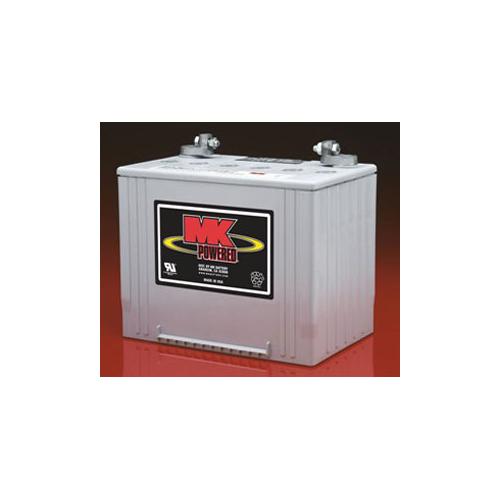 Manufacturer:
MK Battery
Part Number:
M24 SLD G
Retail Price:
$725.00
Price:

$709.00

Pr
DESCRIPTION
MK Deep Cycle Mobility batteries are the number one battery choice by leading manufacturers. MK Gel Scooter and Wheelchair batteries have a durable sealed construction that is FAA, IATA and UPS approved. The Gelled/Suspended Electrolyte in non liquid; allowing the battery to be leak free in any position. The re-sealing vent system prevents excessive internal pressure; thus, they cannot explode under normal conditions.
---
Compatible Chairs:

Afikim Electric Vehicles SE, Breeze, Breeze S
Braun T1100/ T1200F (series 1-3)
Chauffer Mobility Viva Power 645
Dalton Medical Tacahe Hvy Dty PC-P710, P720
Drive Medical Gladiator
Electric Mobility Rover, Sparky, Squire, Rascal 310, Rascal 710
Everest & Jennings M Lancer 2000, Lancer Base, Solaire, Solaire Base
Everest & Jennings M Lancer, Explorer, Vortex
Evermed ECW, EBW
Handicare Atlantic, Pacific
Hoveround Teknique HD, XHD
Invacare 3G Storm Arrow, 3G Storm Ranger X, Storm Arrow FWD, 3G Ranger X RWD
Invacare TDX-4, TDX-5, 3G Storm Torque SP, 3G Storm Torque 3, TDX SR, TDX-3
Karma Medical KS-848, KS-838
Leisure Lift/Pace Saver/Burke Mobility Scout Midi-Drive (RF4)
Medline Strider Max
Merits Health Products Pioneer 9 (S331), Pioneer 10 (S341), Big Boy Regal P710 & 720
Movingpeople.net Winner 3 & Four Wheel, Champion
Orthofab/ Lifestyles 655,760,760V,760N, Spirit, Victory, 720,770, Kameleon
Pride Jazzy (1100, 1104, 1120-2000, 1170XL, 1400, 1420, 1470)
Pride Blast (650, 850, HD), PHC 1, PHC 10, Jet 1 w/ Active Trac
Pride Quantum 6000 & 6000XL, 6000Z (group 4), R4000
Quickie P222, P300(All), P200, P210, P320
Quickie S626, G424, Aspire F10/F11, Freestyle F11, Rhythm, Groove, P220
Quickie S646, S646SE, P222SE
Shoprider Mobility HD (888WHD), 6Runner 14 (888WNLL, 888WNLLHD), Sprinter XL3 Deluxe
Shoprider Mobility Flagship, Sprinter Jumbo XL, Sprinter XL4 & XL3, Sprinter XL4 Deluxe
Theradyne Rover
Tuffcare Challenger Extra Wide
Wheelcare Sportster Vehicle
Wheelchairs of Kansas Prairie Cruiser
Simple Battery Care Tips:
Use the manufacturer's automatic charger for all routine charging.
Never use an automotive or wet-type charger on sealed Gel or AGM Batteries.  (This will damage your batteries)
Don't "top off" the battery with frequent charging.
Frequently Asked Battery Questions:
How often should I charge my Battery
Daily Users:  Charge nightly.  This applies to anyone who uses their equipment for community mobility outside the home.
Occasional Users: Charge your battery before an outing and always after active use.  ( Ideally when the "fuel gauge" is about 50 percent).
How should a battery be stored
Always store your batteries "fully charged".
Check all batteries once a month and recharge as needed.
Sealed Gel and AGM batteries can hold a charge for up to 6 months.
When storing a char or scooter for more than 2 weeks, charge the batteries and then disconnect them.
Avoid Hot and Cold extremes when storing batteries.
SPECIFICATION
| | |
| --- | --- |
| Volts: | 12 |
| Amp Hours: | 73.6Ah |
| Length: | 10.25" |
| Width: | 6.75" |
| Height: | 9.88" |
| Weight Ea: | 52lbs |