U1 Sealed Gel Batteries - ( Pair )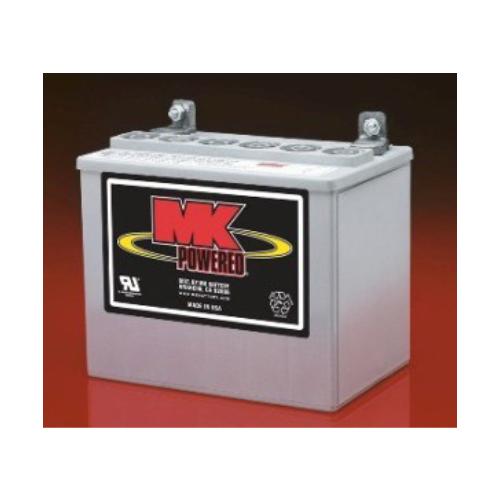 Manufacturer:
MK Battery
Part Number:
MU-1 SLD G
Retail Price:
$364.00
Price:

$339.00

Pr
DESCRIPTION
MK Gel Scooter and Wheelchair batteries have a durable sealed construction that is FAA, IATA and UPS approved. The Gelled/Suspended Electrolyte in non liquid; allowing the battery to be leak free in any position. The re-sealing vent system prevents excessive internal pressure; thus, they cannot explode under normal conditions.
MK Deep Cycle Mobility batteries are the number one battery choice by leading manufacturers.
---
Compatible Chairs:

Access Point Medical AXS5018, AXS5020, AXS-6000, AXS-7000, AXS33F
Afikim Electric Vehicles Breeze C
Amigo Mobility FD (Front Drive), Value Shopper, Value Shopper XL (2 each)
Amigo Mobility RD (Smart Shopper, Excite, Power Shopper, Escort), EXT350, HD450
Braun T1100/ T1200F (series 4 & after)
Bruno PWC-2200 RWD, PWC-2300 FWD, Cub RWD (*Optional Cub 46 only)
Bruno Cub 35 FWD
Chauffer Mobility Chauffer Series, Viva Power heavy duty mini models
Dalton Medical ePower aluminum, ePower Pediatric
Dalton Medical Primechair, MW, RW
Dalton Medical 3 wheel SC-135 HD, 4 wheel SC-S145 HD
Damaco Ovation, Electro-Lite, Elite
Damaco D90, D99
Drive Medical Cirrus - (DP116, DP118, DP120), Cirrus Plus EC, Denali
Drive Medical Image, Cirrus Plus, Odyssey, Sunfire & Sunfire Plus, Gladiator GT, Daytona
Electric Mobility Turnabout/Stowaway, Mini base scooter 130, Candy Apple
Electric Mobility Rascal - 300, 312, 314, 318, 326, 330 Tilt, 610T Scooter, 610F Scooter
Everest & Jennings Metro Power, Metro Power III, Navigator, Quest, Sprint II, 3N, Tempest, Kid Power
Everest & Jennings Hot Wheels, Carrette, Mobie, Everest
Everest & Jennings Sabre LTD, Marathon, Marathon LE, 3P, 3W, 3H, 3V, Magnum
Everest & Jennings Xcaliber, Sprint, Sprint Plus, MX, Sabre ES, Sabre ES-GT (22NF)
Evermed ECS, EBS
Golden Technology Golden Companion, Golden Companion II, Alero, Companion
Golden Technology Alante, Golden Compass
Hoveround MPV1-MPV5, HRV 100, Activa LX, Activa DM
Hoveround Activa GLX, Activa Forerunner
Invacare Power 9000 (16" or wider), Ranger II RWD, R51LXP
Invacare New Nutron Series: R32LX, R50LX, R51LX, R51, Excel
Invacare New Nutron Series: R32, Pronto M6, P9000XDT
Invacare P7E, LX-3, LX-3 plus & LX-4 Scooters, Ranger II, FWD Jr., Pronto M71
Invacare Pronto M50, M51 & M51-CG, Pronto R2 250-series, Pronto M41, Excel 250-series
Invacare Ranger II 250-S FWD/RWD/MWD, TDX Spree, TDX SC
Karma Medical Products KS-636, KS-646, KS747, KP25, KS-343, KS-333
Leisure Lift/Pace Saver/Burke Mobility Scout Midi-Drive: (RF, NP ), Scout M Series: (M1, M1 PBR, M2)
Passport (All), Plus III (All), Junior Premier, Espree (All), Eclipse (All)
Medline Gemini 2, Zenith, Strider Midi
Merits Health Products MP1IN, MP1IA, MP1IW (Travel Ease), MP1IN-FR, MP1IA-FR
Merits Health Products MP3CF, MP3F, MP3C, MP3U
Merits Health Products Pioneer 3 (S131, S1312, S1313), Pioneer 4 (S141, S1412, S1413
Merits Health Products Pioneer (S132, S133, S135, S142, S143, S145)
Merits Health Products Travel-Ease (P101, P107, P171, P200)
Merits Health Products Travel-Ease Regal (P31862, P310, P318, P328), Mid-Wheel Drive P326
Merits Health Products Travel-Ease Regal (P313, P314, P31312, P31461, P31411, P31362)
Merits Health Products Pioneer 3 (S132, SP43), Pioneer 4 (S142, SP44)
Movingpeople.net 1700FS, 1704FS
Movingpeople.net 2000FS Three & Four Wheel
Orthofab/ Lifestyles 755FS,1000FS, Commuter, Star 3 & Star 4 Scooter
Ortho-Kinetics Sierra, Colt, Encore, Triumph, MVP, Explorer, Lark 3 & 4
Ortho-Kinetics Lark XT, Bravo, Bravo Plus, Pony
Otto Bock A200, Skippi
Pillar Technology Express, Express LX, Blazer Plus
Pillar Technology Special Edition, 4 Wheeler 409 /410, Powerchair
Pride Mobility Jazzy (610, 1107, 1103, 1113, 1113 ATS, 1143), Dynamo, Jet 3, Jet 7, Pride LX
Pride Mobility Shuttle, Sidekick, Sundancer, Victory, Maxima, Dynamo (discont.), Legend
Pride Mobility Legend, Celebrity, Celebrity XL, Cyclone, Laser
Pride Mobility Legend XL, Jazzy Sport 2, Rally, Hurricane (2005-present)
Pride Mobility Revo, Jazzy Select Traveller, Select, Select 6 & 7, Quantum 610, Select 6 Ultra
Pride Mobility Victory XL, Boxster (discont.)
Quickie V100, P110, P190, Z500, V121, S525, V521
Quickie P110 (14" wide), V121 (14" wide), V521 (14" wide), S-11, Rhapsody, Prelude
Quickie Freestyle Mini, Zippie Z-Bop
Quickie Aspire M10/M11, Freestyle M11
Ranger All Seasons 1x3, 2x3
Ranger All Seasons Solo, Safari
Redman Wheelchairs 107SRX
Shoprider Mobility Streamer (888W, 888WA), Sovereign (888-3, 888-4), Sunrunner 3 & 4 (incl. Deluxe)
Shoprider Mobility Wizz (888WNL, 888WNLB), 6Runner 10 (888WNLM), Trooper
Shoprider Mobility 6Runner 10 Deluxe, Sprinter, 889-3, 889-4, Sprinter XL4 (8889B-4)
Shoprider Mobility FPC (PHFW-1118, PHFW-1120), Jetstream L (888WAL), Jetstream M (888WAM)
Shoprider Mobility Flagship, Sprinter Jumbo XL, Sprinter XL4 & XL3, Sprinter XL4 Deluxe
Suntech Sterling, Scoota, Regent 3 & 4 (new series)
Suntech Scoota Bug, Indigo 3 & 4
Tuffcare Escort, Limo, Challenger
Win Med Tango Elite
Simple Battery Care Tips:
Use the manufacturer's automatic charger for all routine charging.
Never use an automotive or wet-type charger on sealed Gel or AGM Batteries. (This will damage your batteries)
Don't "top off" the battery with frequent charging.
Frequently Asked Battery Questions:
How often should I charge my Battery
Daily Users: Charge nightly. This applies to anyone who uses their equipment for community mobility outside the home.
Occasional Users: Charge your battery before an outing and always after active use. ( Ideally when the "fuel gauge" is about 50 percent).
How should a battery be stored
Always store your batteries "fully charged".
Check all batteries once a month and recharge as needed.
Sealed Gel and AGM batteries can hold a charge for up to 6 months.
When storing a char or scooter for more than 2 weeks, charge the batteries and then disconnect them.
Avoid Hot and Cold extremes when storing batteries.
SPECIFICATION
| | |
| --- | --- |
| Volts: | 12 |
| Amp Hours: | 26.8Ah |
| Length: | 7.71" |
| Width: | 5.18" |
| Height: | 7.22" |
| Weight Ea: | 23lbs |
REVIEWS
Please review this product!