Emotion M25 Power Assist Wheelchair Wheels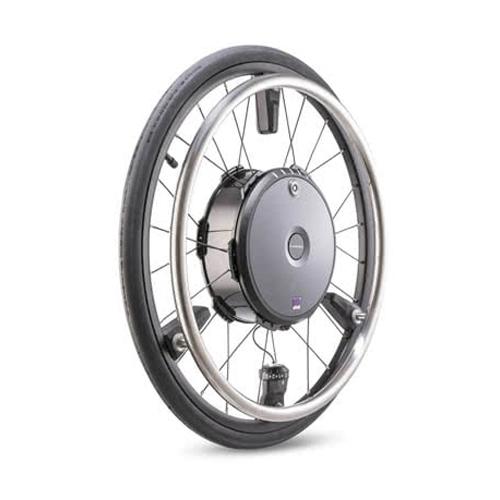 Manufacturer:
Alber (Invacare)
Part Number:
159252X
Retail Price:
$8,275.00
Price:

$7,650.00

Pr
FEATURES
Longer Range
Rollback Delay
Lithium Ion Batteries
Assisted Braking when going downhill
Safe for airplane travel
DESCRIPTION
The e-motion gives you the extra thrust you need to master each day, but also the extraordinary things in life on your own and without help.
You can combine the e-motion drive wheels with almost any wheelchair using two discrete adapters. While moving, sensors built into the push rims measure your drive movement and provide you with the desired motor power. This allows you to move, steer and brake your wheelchair with very little effort.
Whether at work, shopping or in leisure time: the e-motion is extremely maneuverable and is as easy to move as a manual wheelchair in any situation. The manual wheels can usually still be used with the same wheelchair. The e-motion is always with you when you're travelling, and you can even take it on board a plane. While closer to home, the lightweight e-motion drive wheels can be easily removed from the wheelchair in no time at all and they fit in just about every car trunk.
The free e-motion Mobility App helps you customize your driving experience in many ways. Choose from four drive settings - standard, sensitive, soft and active. The app shows battery level, speed, distance traveled and more. It will display error messages to help with troubleshooting problems. You can also activate flight mode to automatically discharge batteries.
With the optionally available ECS remote control, you can switch the e-motion on and off comfortably from your seat and switch between two different assistance levels for indoor and outdoor use. A special learning mode is also available for inexperienced drivers, which gently introduces you to the handling of the e-motion thanks to a particularly smooth setting. If required, you can also use the ECS remote control to activate the patented roll-back delay of the e-motion. It automatically holds you on the spot for 5 seconds as soon as you let go of the push rim when driving uphill. This leaves you with enough time to reposition your hands without the wheelchair rolling backwards.
Why wait any longer. Get the e-motion M25 wheels and put the power in your hands.
---
Customers Also Bought