Quickie / Zippie Wheelchair Backpack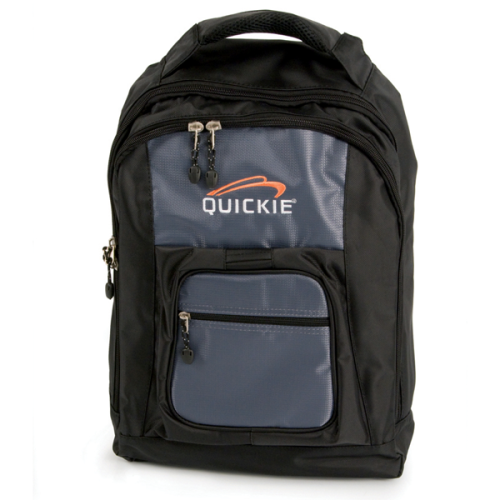 Manufacturer:
Quickie / Sunrise Medical
Part Number:
750115
Retail Price:
$79.00
Price:

$62.00

Ea
DESCRIPTION
Quickie wheelchair backpacks have a great new style that makes carrying personal items easy and convenient.
This wheelchair carry-all backpack attaches securely to your wheelchair back. Does not require push handles to attach securely. Convenient carry handle is handy for when not wheelchair.
The Quickie backpacks are stylish, durable, and functional. Multi compartments allow for greater organization and easier access to the things you need.
Available in Pediatric and Adult sizes.
Ideal wheelchair backpack for almost every wheelchair.
And at a great value!
---
Genuine Quickie Accessory Available in black.
SPECIFICATION
| | |
| --- | --- |
| Pediatric Dimensions: | 12"L x 12"W x 4"D |
| Adult Dimensions: | 18"L x 13"W x 5"D |
| Mounting: | Hangs on backrest, does not require push handles |
REVIEWS
RATING:
Total Reviews: 2
10/21/2017 2:12:44 PM
Review by,
Steve from PA
Good bag but lousy zippers. Zippers give out long before any appreciable wear is evident on the bag itself. I'd give it an 'A' for design and construction, but the too-weak zippers that fail after less than a year drops it to an 'F'. I've gone through three of them now. Einstein said that the definition of insanity was doing the same thing over and over and expecting different results. I guess I'm cured of my insanity because I won't buy another one of these.
11/3/2016 11:50:42 AM
Review by,
Ladonna from WI
It's cute but inside tears easily, have bought two in last few months. Dont know where else to get this type of bag!