The "Nearly" Universal OH Cup Holder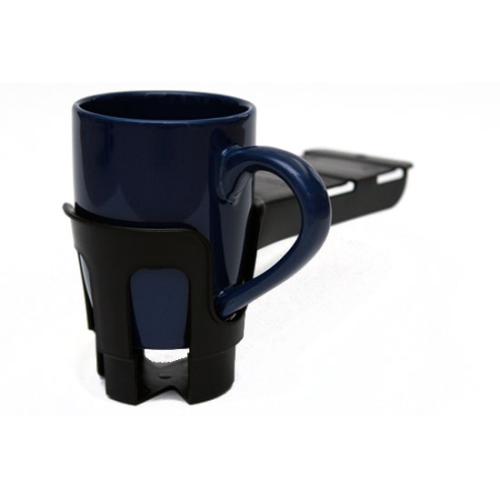 Manufacturer:
OH 4 Industries
Part Number:
OH4
Price:

$24.95

Ea
FEATURES
Includes 2 Hook and Loop Straps and 2 Foam Pads
Webbed bottom design that yields drink support, but prevents condensation build up.
Use of hook and loop straps enables a variety of uses on a multitude of armrests.
Design accommodates cup handles, and the inner diameter accounts for the largest of beverage containers.
DESCRIPTION
The "Nearly" Universal OH Cup Holder holds true to it's name. Adapting to fit on stadium seats, wheelchairs, scooters, airplane armrests, and many office chairs. As long as the armrest you're attempting to use is relatively flat on top with enough space underneath to wrap the Hook and Loop straps around, this holder will liberate you from your cup.
The "Nearly" Universal OH is held to the armrests by using Hook and Loop straps along with the foam pads gripping the armrest. Use none, one, or two of these pads to allow the "Nearly" Universal OH a better application to your armrest. The "Nearly" Universal OH also mounts on the left or right side, so as long as there's nothing directly in front of the armrest.
Dealing with BIG cups from stadiums has carried over into this product, with a few minor improvements. Each side of the actual cup holder has a slot, allowing coffee mugs of varying sizes to be carried. The OH is also deep enough for those larger sodas or bottled drinks with a webbed design at the bottom allowing moisture or condensation to pass through, eliminating messy liquid pooling.
---
REVIEWS
Please review this product!