Padded Half Wheelchair Arm Tray w/ Swivel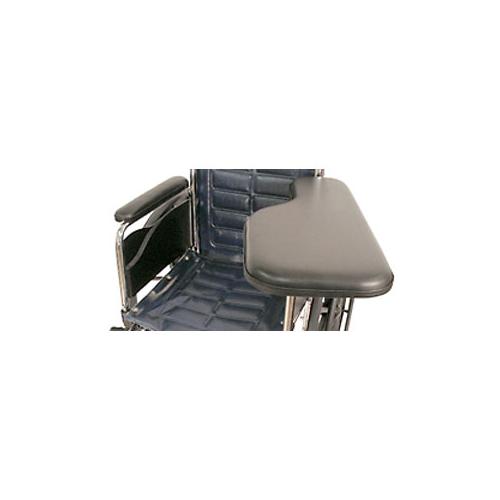 Manufacturer:
Therafin
Part Number:
THF31340R
Retail Price:
$371.00
Price:

$235.00

Ea
FEATURES
1/2" thick wood covered with 1" thick foam
Upholstered with black molded satin vinyl
Swivels in towards user and out slightly past center
Allows for user activity or positiong needs
Bracket is armpad height adjustable
Tray does not flip up or back
DESCRIPTION
Armrest-style premium wheelchair tray with pre-installed swivel bracket that adjusts to different wheelchair arm pad thicknesses.
This tray is easy to install and rotates inward to accommodate most single arm positioning needs.
Trimline half trays have a straight outer edge, are slightly narrower, and offer support for people with a weakness on one side.
Fixed adjustable height bracket included.
---
Suggested Use
When user requires heavy duty padded armrest that allows for user activity or positioning needs.
Stroke patient with lame arm.
NO ASSEMBLY REQUIRED!
The pre-installed adjustable height swivel bracket allows the tray to swivel in towards the user, and out slightly past the arm pad center. Trimline Swivel Armrests are 1/2" thick wood covered with 1" thick foam, then upholstered with black molded satin vinyl. Available for left or right side with adjustable height swivel bracket pre-attached.
Tray Does Not Flip Up/Back, Swivel Only
REVIEWS
Please review this product!