Comfort Saddle 7 Series Bariatric Cushion
DESCRIPTION
The Saddle cushion is a unique cushion made with 2 layers of high resiliency foam to provide increased comfort and decrease the probability of pressure sores. The coccyx cutout relieves pressure and alleviates ulcers. A radius bottom provides versatile surface for sling or flat seating surfaces. The Kwik Strap loops secure the cushion to the wheelchair by securing around the back vertical posts.
SOLACE FABRIC COVER designed for pressure relief and comfort, Solace is fluid-proof, anti-microbial and soft to the touch. The multi-dimensional stretch design alleviates pressure on bony prominences and provides optimal skin protection.
Optional Quadra3D pack is a supple polyurethane bladder that maintains skin integrity by allowing optimal contour to the user.
---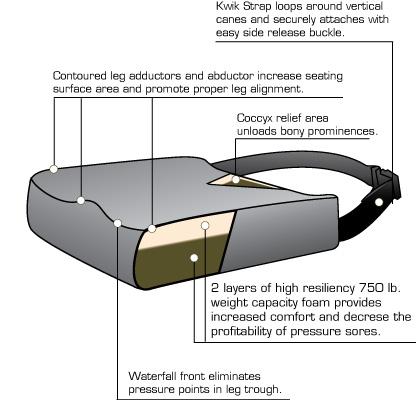 SPECIFICATION
| | |
| --- | --- |
| Front Height: | 4.5" |
| Rear Height: | 4.5" |
| Pommel Height: | 5" |
| Leg Trough Height: | 3.5" |
| Weight Capacity: | 750lbs. |