JAY J2 Plus Wheelchair Back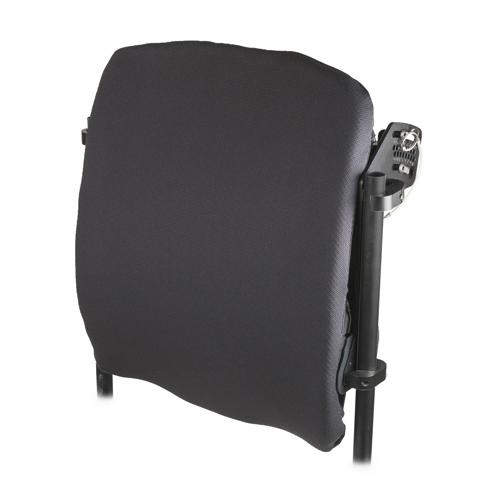 Manufacturer:
Jay / Sunrise Medical
Part Number:
202X2XA
Retail Price:
$1,244.00
Price:

$933.00

Ea
DESCRIPTION
The JAY J2 Plus Wheelchair Back is a bariatric, bi-angular back with a weight capacity of 650 pounds specifically designed to address the pelvic and trunk stability of bariatric clients.
With two back shells covering widths of 20"-23" and 23"-26", the client's size is easily accommodated.
---

Adjustable Back Width
Bariatric patients often experience fluctuations in body width. To accommodate these changes, the JAY J2 Plus Back incorporates adjustable sliding hardware. This, along with a movable growth plate that is used to contain excess tissue, provides up to 3 inches in width adjustment.
---

Bi-angular Back
Excess posterior tissue often tends to push bariatric patients away from the backrest. Anterior tissue pulls them forward and down. By providing a bi-angular back that angles away from the patients' PSIS, the JAY J2 Plus Back maintains spinal contact and promotes thoracic extension without requiring a correction in seat depth.
---

Custom Positioning Options
Like many patients, bariatric patients often have special positioning requirements. The JAY J2 Plus Back addresses these requirements with optional headrest-mounting hardware, fixed lateral pads, swing-away lateral pads, spinal fluid pads, and pelvic positioning inserts.
---

Heat Reducing Design
Excess weight often promotes the build-up of heat and moisture, both of which contribute to skin breakdown. To reduce this effect, the JAY J2 Plus Back is designed to breathe. A combination of slots in the shell and a special spacer-fabric lining in the cover promote the movement of air in and around the foam base. This keeps the back cool and dry.
---
To promote thoracic extension of the patient's back, the JAY J2 Plus Back is designed with a 15 adjustment range. Both straight and 8 back posts provide 12 posterior tilt and 3 anterior tilt. Individual angles are set with a simple locating pin. No tools are required.

A friction-locking vanity flap allows excess posterior tissue to expand behind the seat. This helps maintain even contact along the spinal column. The vanity-flap hinges are initially loosened to adjust the angle, then tightened to provide support.

Special adjustable hardware accommodates 7/8" to 1 1/4" back post tubing. This, along with an available angle range of 12 posterior to 3 anterior tilt, makes the JAY J2 Plus Back one of the most flexible products on the market.

To help maintain proper pelvic alignment, the backside of the foam base has a sewn-in pocket for three pelvic positioning inserts. These inserts are easily accessible from above, through a zippered slot. The two end-inserts can be extended through side slots to allow for growth.

With bariatric patients, it is important to make sure the back cushion does not slide off the shell. The JAY J2 Plus Back uses special Hook and Loop attachment flaps on the top and bottom of the cover. These flaps fold over the shell and attach to strips on the backside. This ensures the cover and cushion stay in place.

To accommodate folding bariatric wheelchairs, the JAY J2 Plus Back is designed for easy removal. Simply pull out the positioning pins, rotate the back forward, and lift up. It is that easy.
SPECIFICATION
| | |
| --- | --- |
| Product Weight: | Approx. 11 lbs |
| Product Width: | 20 in. - 26 in. |
| Product Height: | Approx. 20.5 in. |
| Weight Capacity: | 650 lbs |
PARTS