JAY J3 Carbon Fiber Wheelchair Back
Manufacturer:
Jay / Sunrise Medical
Part Number:
J3CF
Retail Price:
$1,002.00
Price:

$710.00

Ea
DESCRIPTION
The new J3 Carbon Fiber Wheelchair Back offers ultra light weight and style all in one. The 2.2" contour depth provides mild lateral positioning and freedom of movement. Choice of 2 levels of support. (LT) Lower Thoracic or (MT) Mid Thoracic spine support. Two sport level back heights for each level of support.
Select standard (RH) Quick release or ultralight (RHF) fixed non-removable mounting hardware. Adjustable angle up to 20 degrees, up to 2.25" of depth adjustment. Height adjustable for fine tuning.
Ultimate in lightweight sport and support comfort for all ultralight wheelchairs.
---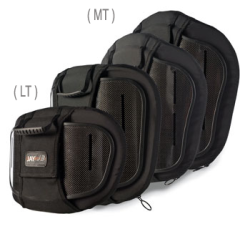 Ultralight Carbon Fiber Construction
The NEW JAY J3 carbon fiber wheelchair back is ultra light and stylish. J3 CF backs offer a mild 2.2" gentle supportive contour that allows full range movement.
Choose from the (LT) Lower Thoracic low support contour or the (MT) Mid Thoracic contour.
---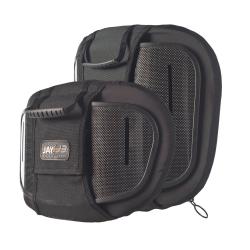 Ultimate in Style and Comfort
Carbon Fiber Style
New carbon fiber construction adds a distinctive appearance and style to most any ultralight wheelchair .
Lightweight & Durable
Back weighs in at only 2.2 lbs including the standard RH quick release hardware. Durable and strong with a weight capacity of 300 lbs.
---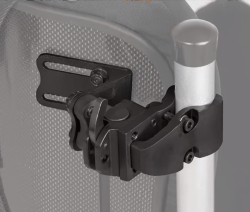 RH Quick Release Hardware
The RH mounting hardware allows for quick and easy removal from the wheelchair.
Angle adjustable ( up to 20° ), and width adjustability ( up to 2") Height adjustment is independent of mounting location.
Easy to install and easy to adjust. Adjustment tools are included.
SPECIFICATION
| | |
| --- | --- |
| Support Contour: | 2.2" |
| Widths: | 14, 16", 18" and 20" |
| Backrest Heights: | LT: 6.5" or 9.5" |
| | MT: 12" or 15" |
| Cover: | Spacer fabric and Lycra Stretch Outter Layer |
| Foam: | 1 1/2" Soft Foam |
| Mounting Options: | (RH) Quickie Release |
| | (RHF) Fixed non-removable |
| Weight: | 2.2 lbs ( with RH hardware ) |