ROHO Low Profile Dual Compartment Wheelchair Positioning Cushion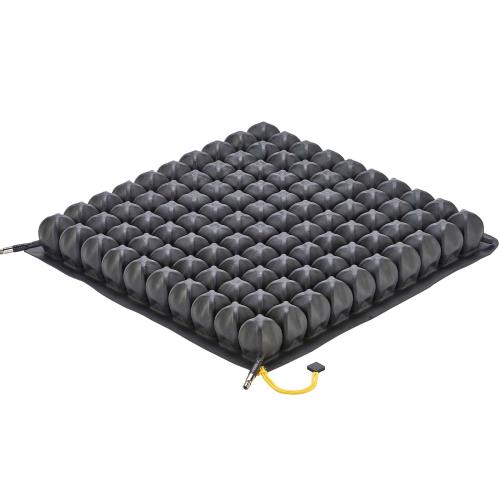 Manufacturer:
ROHO / Permobil
Part Number:
2R88LPC
Retail Price:
$559.00
Price:

$437.00

Ea
DESCRIPTION
The Low Profile ROHO Cushion is an adjustable skin protection and positioning wheelchair cushion that has 2" (5 cm) high cells to provide excellent protection against skin breakdown. Also available with dual valves for side-to-side or front-to-back positioning and support. Includes cushion cover, patch kit, and pump.
The Low Profile Cushion is recommended for clients who:


Are at moderate risk to high risk for skin breakdown


Have no or partial sensation


Are able to do independent weight shifts


Propel their wheelchair with their feet


---
SKIN PROTECTION
Thirty years of research, experience and refinement of ROHO DRY FLOATATION technology provides the client with unparalleled skin protection.
SHAPE FITTING
The unique cellular design of the High Profile and Low Profile allows the cushions to constantly conform and track movements of the body. The simple adjustment and conformity of the cells accommodates and meets the unique skin integrity needs of each client throughout the day.
PROVEN PERFORMANCE
Laboratory tests prove ROHO will outlast other air filled cushions and maintain their effectiveness over time, even after exposure to contaminants and daily wear and tear.
LIGHTWEIGHT
At only 4.4 and 3.2 pounds, the High Profile and Low Profile cushions are easy to transport and handle, which minimizes fatigue of the client.
SPECIFICATION
| | |
| --- | --- |
| 2R88LPC | 15" x 15" / 38 cm x 38 cm |
| 2R89LPC | 15" x 16" / 38 cm x 41 cm |
| 2R810LPC | 15" x 18" / 38 cm x 46 cm |
| 2R99LPC | 16" x 16" / 41 cm x 41 cm |
| 2R910LPC | 16" x 18" / 41 cm x 46 cm |
| 2R109LPC | 18" x 16" / 46 cm x 41 cm |
| 2R1010LPC | 18" x 18" / 46 cm x 46 cm |
| 2R1011LPC | 18" x 20" / 46 cm x 51 cm |
| 2R119LPC | 20" x 16" / 51 cm x 41 cm |
| 2R1110LPC | 20" x 18" / 51 cm x 46 cm |
| Manufacturer Warranty: | 24 Month Limited (6 Month on Cover) |
PARTS