AirLogic Posture Support - Standard-Cut Non-Stretch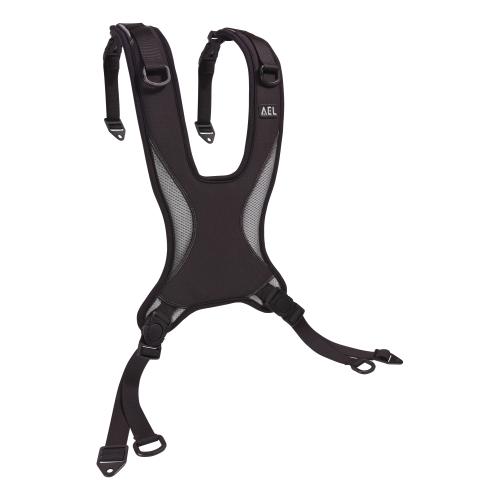 Manufacturer:
Adaptive Engineering Labs
Part Number:
Retail Price:
$205.00
Your Price:
Out of stock
DESCRIPTION
AirLogic Anterior Trunk Supports Standard-Cut styles provide optimal trunk and chest support, while enabling the comfort of air movement between the user and the underside of the support. AirLogic incorporates contemporary, fashionable details and rich fabrics to create functional designs.
Moisture-wicking Air Mesh material accelerates air movement under and through the posture support. Air movement promotes a dry, comfortable fit. Breathable structural layers provide support and durability while controlled flexibility enables comfortable movement. The panel is a structured design with a limited 2-way stretch: less flimsy and more supportive than traditional neoprene belts.
Gray Air Mesh material on the front-facing side of AirLogic trunk supports identifies the Non-Stretch product line. Non-Stretch styles feature the full Air Mesh fabric facing the user but include a laminate membrane backing to prevent the entire belt from stretching.
---
Component Feature/Benefits:
Front-Pull adjustable D-ring straps on the top
Removable panel is machine washable and dries quickly due to the breathability of the air mesh
The top and bottom straps are not interchangeable, preventing incorrect positioning
The buckles on the bottom straps swivel to provide additional comfort without losing the desired position of the panel
Quickly install the support with our Tri-Glide Belt Anchors and adjust webbing length with the durable Side Release Buckles and D-ring pulls
Low-profile top buckles combine easy-to-use side release operation and a strong hold with a dynamic, sporty look. To prevent improper installation of the posture support, the top buckle cannot be interchanged with the bottom buckle.
Front D-ring pull straps enable easy posture support adjustment by users and caregivers.
Swiveling, quick-release bottom buckles enable pelvic movement without causing uncomfortable pressure while maintaining proper trunk support and stabilization. The durable pivoting buckle increases belt longevity by distributing connection point stress.
Size Chart:
SPECIFICATION
| | | | | | | |
| --- | --- | --- | --- | --- | --- | --- |
| Size | A | B | C | D | E | F |
| XX Small | 6" | 10 1/2" | 4 1/2" | 5 1/4" | 1 1/4" | 2" |
| Extra Small | 8" | 14" | 4 1/2" | 8 1/2" | 4" | 2" |
| Small | 9 1/4" | 17" | 6" | 10" | 5 1/2" | 2" |
| Medium | 10 1/4" | 20" | 7 1/2" | 11 1/4" | 6 1/4" | 2 1/4" |
| Large | 11 1/4" | 22" | 8 1/4" | 12 1/2" | 7" | 2 1/2" |
| X Large | 12 1/4" | 24" | 9" | 13 1/2" | 7 1/2" | 2 3/4" |