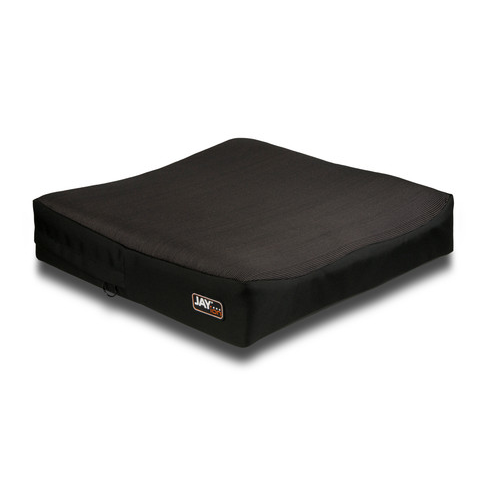 Manufacturer:
Jay / Sunrise Medical
Part Number:
JION
Retail Price:
$426.00
Price:

$319.50

Ea
DESCRIPTION
The JAY Ion wheelchair cushions are designed with the benefits of both skin protection and positioning in a lightweight, comfortable design.
The JAY Ion cushion incorporates an antimicrobial outer cover, a moisture resistant inner cover and a dual layer foam base.
Jay Ion wheelchair cushions can accommodate various user weights: ( 300 pounds for 14" to 21" widths and 500 pounds for 22" to 24" widths.)
The JAY Ion's inner cover features specially coated anti-wicking seam thread to prevent moisture from wicking through the seam holes.
The inner moisture-resistant polyurethane-coated cover is made with Lycra.
Wheelchair cushions's inner foam is not the only place odors are a problem, the Ion's outer X-static cover is impregnated with silver. Silver helps eliminate bacteria and also binds with ammonia and denatured proteins to accelerate the odor reduction process.
The firmness of each JAY Ion cushion is determined by the user's width. It makes little sense for a lightweight user to sit on a stiff cushion, or a heavy user to sit on a overly soft cushion. For this reason, narrow JAY Ion cushions are less firm, and wide JAY Ion wheelchair cushions are more firm.
---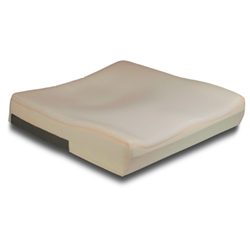 Dual Layer Foam Contour Base
Jay Ion has a dual-layer foam base that offers optimal pressure distribution. Firmness is determined by cushion width, which directly corresponds to the users weight.
---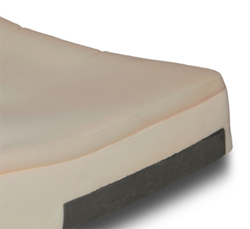 Visco Memory Foam Top Layer
The Ion's top layer of soft, Visco memory foam wheelchair seating conforms to each individual and distributes weight over a larger area for pressure reduction and maximum comfort.
---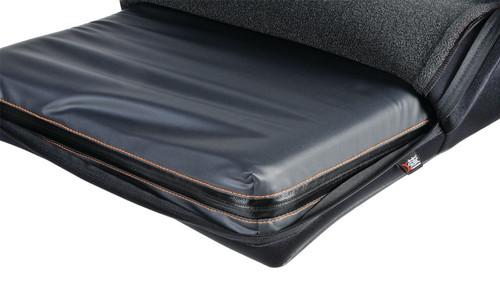 Dual-Cover System
For convenience and protection, the JAY Ion features a dual-cover system. The water-resistant inner cover is easy to clean and includes anti-wicking seam thread and Aqua-guard zipper for foam protection. The machine-washable, stretch outer cover utilizes naturally anti-microbial, silver-impregnated X-static fiber. A layer of 3DX spacer fabric promotes airflow for additional skin protection.
SPECIFICATION
| | |
| --- | --- |
| Width Range: | 14" - 24" |
| Depth Range: | 14" - 24" |
| Product Weight: | 3.5 lbs |
| Height: | 4" |
| Weight Capacity: | 14" - 21" Widths - 300 lbs |
| | 22" - 24" Widths - 500 lbs |