ROHO Select Series Cushion Cover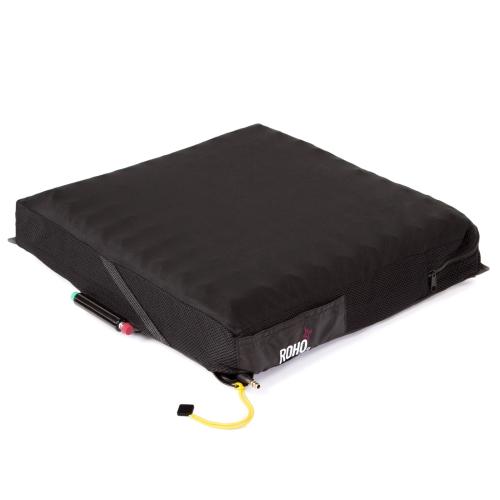 Manufacturer:
ROHO / Permobil
Part Number:
COV-SSA
Retail Price:
$61.00
Price:

$48.00

Ea
DESCRIPTION
ROHO replacement cushion covers are a two-way stretch top that enables the cushion cells to conform to the individual's body shape without diminishing product effectiveness or therapeutic value.
NOTE: Covers are ordered by cell matrix. Count cells across the front for "Cells Wide". Count cells front to rear for "Cells Deep".
The ROHO covers have a stretch Lycra top material that is a durable heavy weight fabric, with a soft feel. The side material is composed of a 3-layered knit polyester spacer fabric, which provides superior air circulation that ventilates and cools the user. The fluid proof, solid, non-skid base material offers a durable easy to clean surface. It also features a special slit for the valve located on the cushion and hook and loop straps that allow the user to secure the cushion to their chair.
The Select Series covers are specifically designed for the Quadtro and Contour Select cushions. To get the correct cover, select the size/cell count and height profile of your cushion. In addition, you have the option to get a front zipped pocket added to your cushion cover - which can be quite handy.
---
Fits:
QUADTRO SELECT HIGH PROFILE Cushion
QUADTRO SELECT MID PROFILE Cushion
QUADTRO SELECT LOW PROFILE Cushion
CONTOUR SELECT Cushion
---
IMPORTANT NOTE:
All ROHO cover sizes are manufactured specifically for the respective cell matrix of the cushion as well as the cell height.
Should you need assistance selecting the correct replacement cover, please call us 800.236.4215.
SPECIFICATION
| | | | | | |
| --- | --- | --- | --- | --- | --- |
| Actual Cover Sizes : Order By Cell Count Only | | | | | |
| | Cell Width | Cover Width | | Cell Depth | Cover Depth |
| | 5 | 11" | | 5 | 10" |
| | 6 | 12 3/4" | | 6 | 11 3/4" |
| | 7 | 14 1/2" | | 7 | 13 1/2" |
| | 8 | 16" | | 8 | 15 1/4" |
| | 9 | 17 3/4" | | 9 | 17" |
| | 10 | 19 1/2" | | 10 | 18 1/2" |
| | 11 | 21 1/4" | | 11 | 20 1/4" |
| | 12 | 23" | | 12 | 22" |
| | 13 | 21 3/4" | | 13 | 23 3/4" |
| | 14 | 12 1/2" | | 14 | 25 1/2" |
Customers Also Bought $417.00 Ea
FREE Shipping
Hygiene Product