JAY J3 Wheelchair Cushion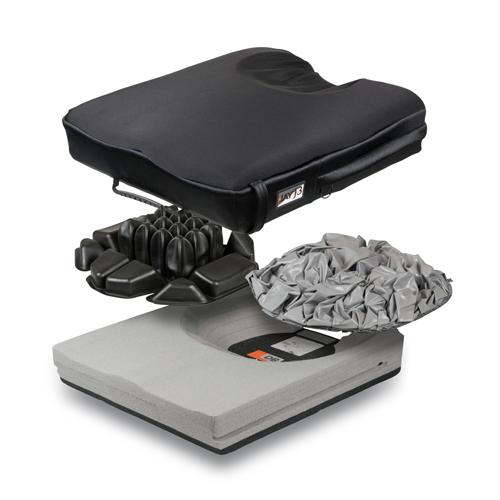 Manufacturer:
Jay / Sunrise Medical
Part Number:
J3C
Retail Price:
$685.00
Price:

$513.75

Ea
DESCRIPTION
The J3 cushion is custom built. It is designed with careful consideration for the science of seating. The result: A cushion that features outstanding pressure distribution, comfort, heat and moisture dissipation, and optimal stability. It is comfortable, easy-to-order and can accommodate changing needs. It's a perfect new member of the JAY Family!
The J3 is available with a wide range of positioning options to help the user maintain appropriate postural stability. Optional lateral and medial thigh supports as well as lateral pelvic supports are affixed securely to the cushion base with PSA tape.
The J3 cushion is easy to order by building a SMART Part # through 6 easy steps including selecting height, width/depth, PLA size, fluid insert type, cover type and optional positioning components. See the J3 Pocket Guide or order form for a step-by-step walk through and more detailed information.
The patent-pending new Pleating Geometry design of the fluid pads helps to increase immersion and envelopment. Pleats create greater surface area on the top of the pad and pleats expand to accommodate shapes, while simultaneously preventing the fluid from moving out of place.
The new J3 Cushion is an excellent solution for today's growing bariatric population with its expanded weight capacity. User weight limit for under 20" in width is 330 pounds and for 20" wide and greater is 500 pounds.
Made To Order Item, Ships within 7-10 Business Days, (Determined by modifications)
NOTE: Air insert not currently available.
---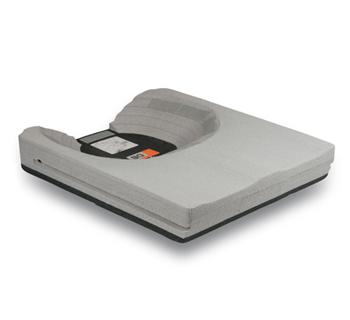 Contoured, Easy to Modify Base
The J3 features a contoured foam base constructed from closed cell foam. This makes it easy to modify in our factory or in the field. Additionally, an extensive selection of positioning components are available. The J3 provides exceptional lateral and forward stability for individuals with changing needs or unique postures.
---
Customizable Pelvic Loading Area
The customizable pelvic loading area of the J3 cushion is designed to provide forward and lateral stability, optimal immersion, and weight distribution for individuals who use wheelchairs or other assistive devices. The pelvic loading area is the portion of the cushion that supports the pelvis and helps distribute the weight of the individual across the cushion. By allowing the pelvic loading area to be customized separately from the cushion width, the J3 cushion can accommodate a wide range of client needs and provide the necessary support and stability for comfortable seating. It is important to consult with a healthcare professional or seating specialist to determine the appropriate size and configuration of the pelvic loading area for an individual's needs.
---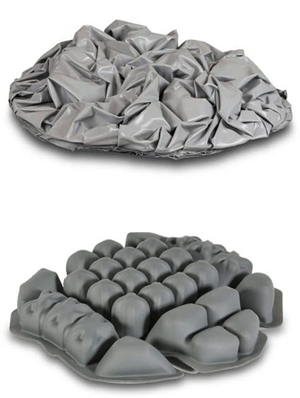 JAY Flow or Air Insert
JAY Flow fluid or air inserts are designed to be used in seating cushions or pads to provide support and pressure relief for individuals who use wheelchairs or other assistive devices. These inserts are made to conform to the shape of the individual user and can be adjusted to suit their sitting position and needs. The JAY Flow Field Variable option allows for further adjustments to be made in the field to accommodate asymmetrical postures or changing needs.
Both the fluid and air inserts are designed to help protect the skin from breakdown by providing proper pressure relief beneath bony prominences, which can be a common problem for individuals who spend long periods of time seated in a wheelchair or other assistive device. It is important to consult with a healthcare professional or seating specialist to determine the best insert option for an individual's needs.
---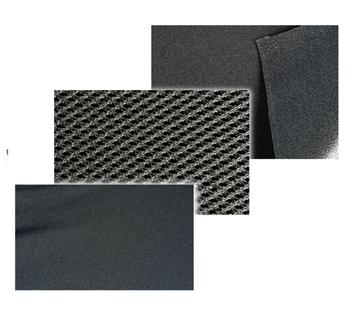 Multiple Cover Options
Stretch Allows for proper immersion and prevents the increase in pressure resulting from surface tension

Microclimatic Dissipates heat and moisture to keep the surface and the client clean and dry.

Moisture/Incontinence-Resistant Helps with incontinence management by protecting the foam base from moisture build-up
---
SPECIFICATION
| | |
| --- | --- |
| Seat Widths: | 12" to 24" |
| Seat Depths: | 12" to 24" |
| Cushion Heights: | 3.75" or 4.25" |
| Cover Options: | Stretch, Incontinent, or Microclimatic |